Finding the perfect gifts for your bridal party is an important way to show your appreciation for their support and friendship throughout your wedding journey. When it comes to bridesmaids, choosing premium quality gifts is a wonderful way to thank them for being a part of your special day. If you're looking for some inspiration, here are a few ideas that are sure to impress your bridesmaids.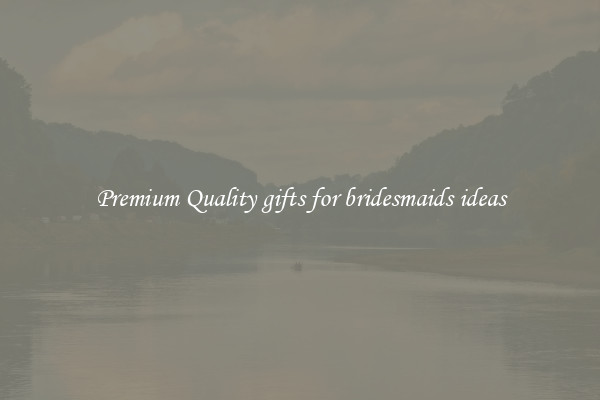 1. Personalized Jewelry: Jewelry is always a go-to gift for bridesmaids, but opting for personalized pieces adds an extra touch of sentimentality. Consider getting custom-made necklaces or bracelets with their initials or birthstones. It's a gift that they can wear not only on your wedding day but for years to come.
2. Luxury Spa Set: Treat your bridesmaids to a day of pampering by gifting them a luxurious spa set. Look for sets that include high-quality bath products like bath oils, scrubs, and lotions. Adding a plush robe or a scented candle will elevate the gift and create a spa-like atmosphere for them to relax in.
3. Designer Handbags: If you're looking to splurge a little, designer handbags are a surefire way to wow your bridesmaids. Choose a classic style that can be used beyond your wedding day. Not only will they appreciate the quality and craftsmanship of the bag, but it will also remind them of the special role they played in your wedding.
4. Weekend Getaway: For an unforgettable gift, consider planning a weekend getaway for your bridesmaids. This could be a spa retreat, a cozy cabin in the countryside, or even a beach vacation. Spending quality time together will allow you to relax and reminisce about your wedding while creating lifelong memories.
5. Customized Wine or Champagne: Raise a glass to your bridesmaids with a bottle of custom-labeled wine or champagne. Work with a winery or a specialized service to design labels that include their names, your wedding date, and a meaningful message. Not only will they enjoy the delicious beverage, but they can also keep the bottle as a memento.
6. Fine Fragrances: Help your bridesmaids indulge in luxury by gifting them with a high-end fragrance. Choose a scent that matches their preferences and personality. Explore niche perfume brands or consider personalized fragrance consultations to ensure the perfect pick.
Regardless of which premium gift you choose, it's the thought and effort behind it that truly counts. The most important element is showing your bridesmaids just how much they mean to you and how grateful you are for their presence on your big day. By selecting premium quality gifts, you're not only expressing your gratitude but also creating lasting memories that they will cherish for years to come.